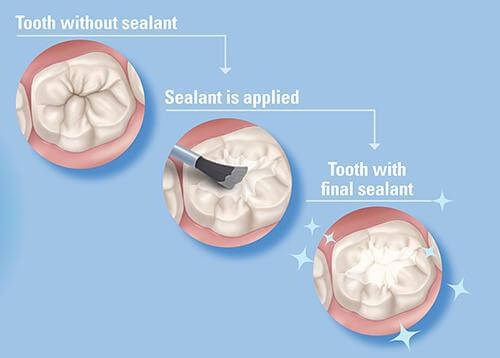 What are Sealants and Why?
Dental sealants are a tooth-colored protective coating painted on children's teeth to prevent cavities!
Teeth, especially molars, have natural pits and grooves on their surfaces that can trap food and bacteria. These areas are difficult to clean by traditional brushing. By sealing off the cavity-prone areas, sealants reduce the risk of a cavity forming on chewing-surfaces by 76% according to the American Academy of Pediatric Dentistry.
Does My Child Need Sealants?
Sealants are one of the best ways to protect your child's teeth from cavities! They should be placed as soon as grownup molars are in the mouth; usually around the age of 6.
If your child's baby teeth are prone to getting cavities, consult your dentist about placing sealants on even baby teeth!
What to Expect at the Visit?
Sealant placement is simple. Once your child's teeth are cleaned and dried, sealants can be painted on each tooth. Sealants are painless and do not require a recovery period; after your appointment you can go on to enjoy your day!
If you would like more information about pediatric dentistry at PDAdental, please feel free to reach out to us at (212) 587 0202.
Reference
Evidence-based Clinical Practice Guideline for the Use of Pit-and-Fissure Sealants (AAPD Reference Manual V 38 No 6 16/17)
Photo Credit: cdc.gov